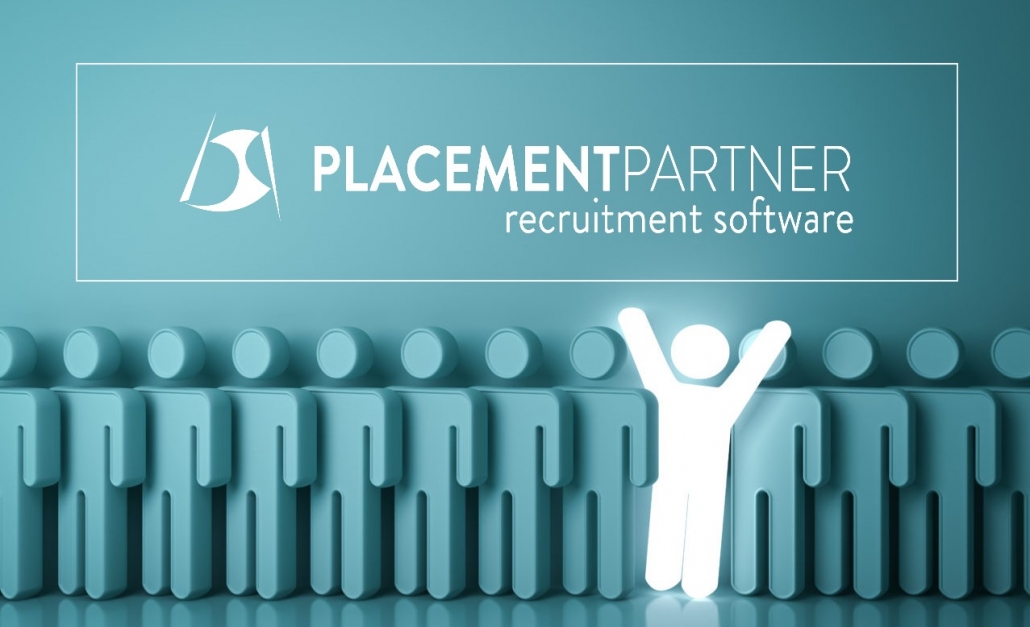 In another brilliantly innovative move, our tech team has developed a new way to streamline the candidate shortlisting process. This new feature allows you to add candidates to a vacancy shortlist directly from their profile in the Quality Candidate Database.
Another fantastic element of this feature is that the system gives you an overview of all the vacancies your candidate is already involved with – either being short-listed for, having been placed or working an assignment. In this way, you can view and manage your candidate vacancies directly from their profile.
You now have more than one way to navigate your system and more ways in which you can make this amazing tool fit your personal recruitment workflow!
Here's how it works –
When viewing a candidate's profile in the Quality Candidate Database, you will notice the addition of a new button at the top of the page – 'Add to Vacancy'.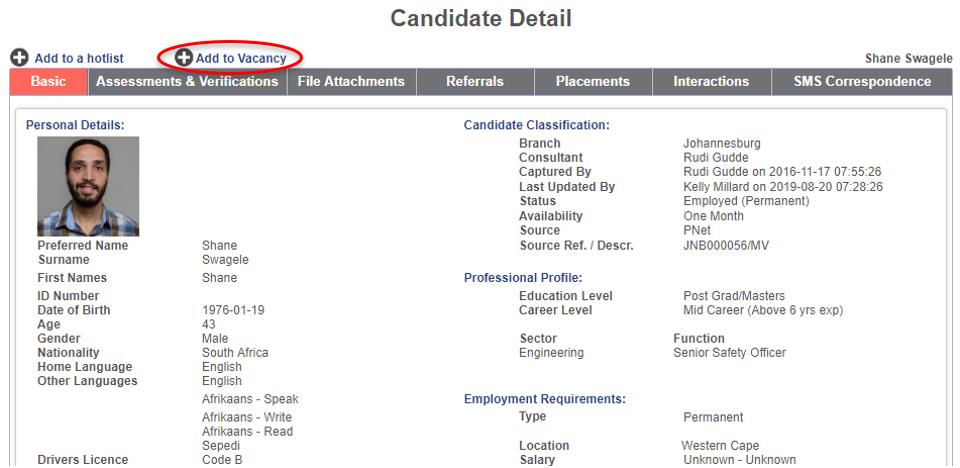 This button will open a pop-up window with a search bar at the very top. Below is a list of all the vacancies this candidates is connected to. The vacancies are categorized into those which you have created (My Vacancies) and those created by the rest of your team (Other Recruiters' Vacancies).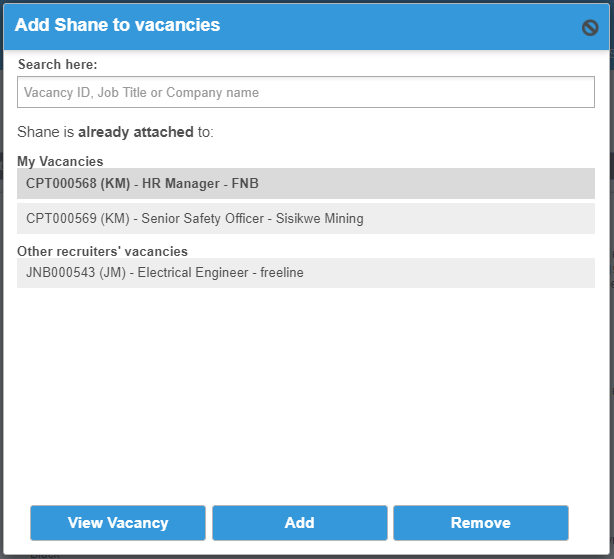 To view or shortcut to any of the vacancies listed here, simple click on the vacancy in the list and then click on the 'View Vacancy' button.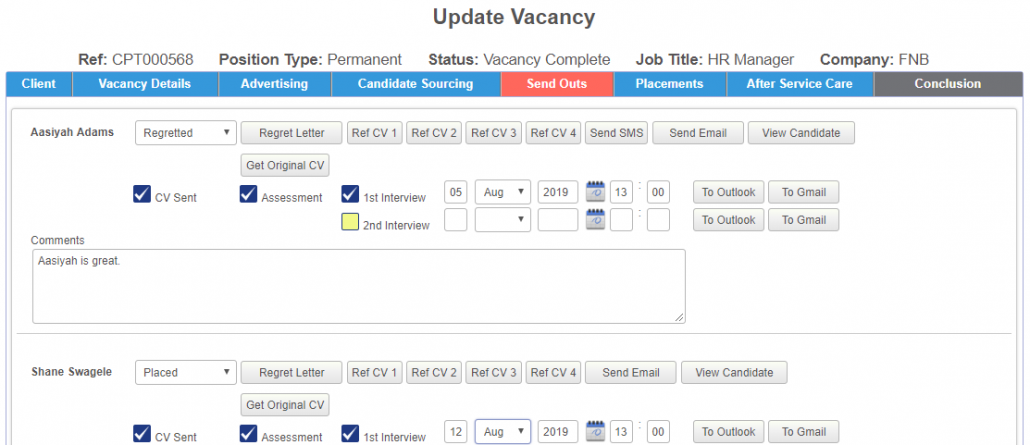 Note!
Remember clicking 'Cancel' will bring you back to the Add to Vacancies pop-up window.
Candidates can also be removed from any shortlist, using this tool. As before, simply click on the vacancy in question and then click on the 'Remove' button below.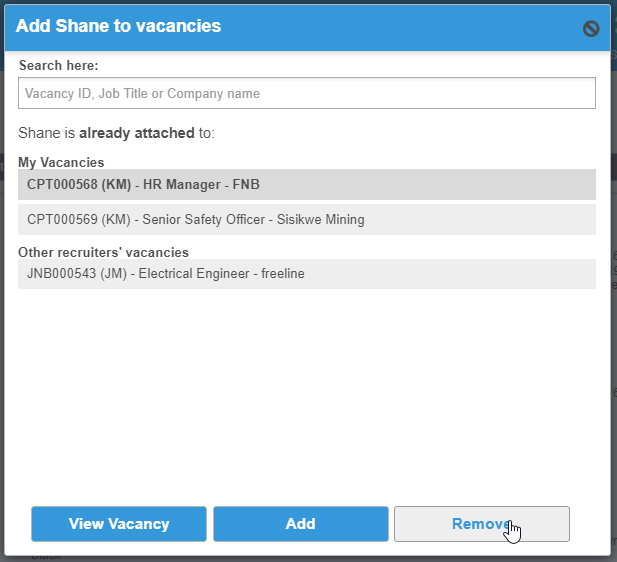 Remember!
It is important to note that you need to click the 'Remove' button a second time to confirm that you are sure you'd like to remove the candidate from this vacancy shortlist.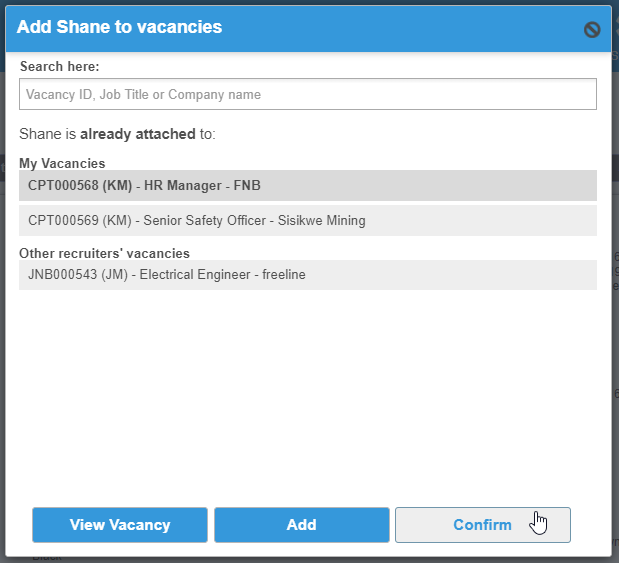 To add this candidate to a vacancy shortlist, begin by typing the Vacancy ID (or vacancy reference number), the Job Title or the name of the hiring Company into the search bar.
Click on the required vacancy…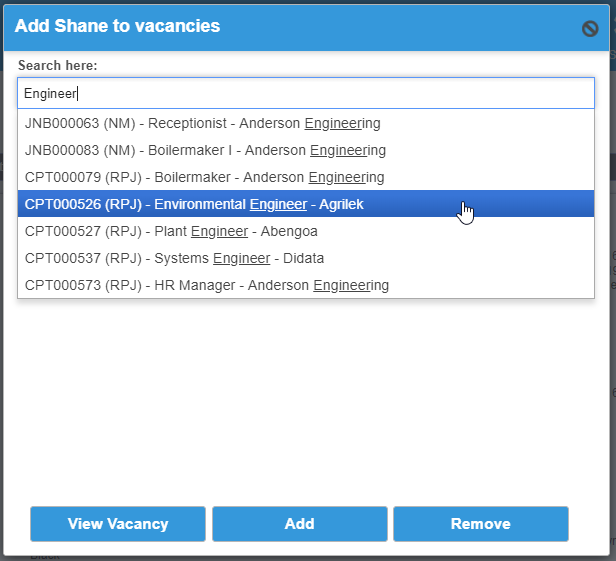 …and then hit the 'Add' button. You will see that the added vacancy will immediately appear on the list.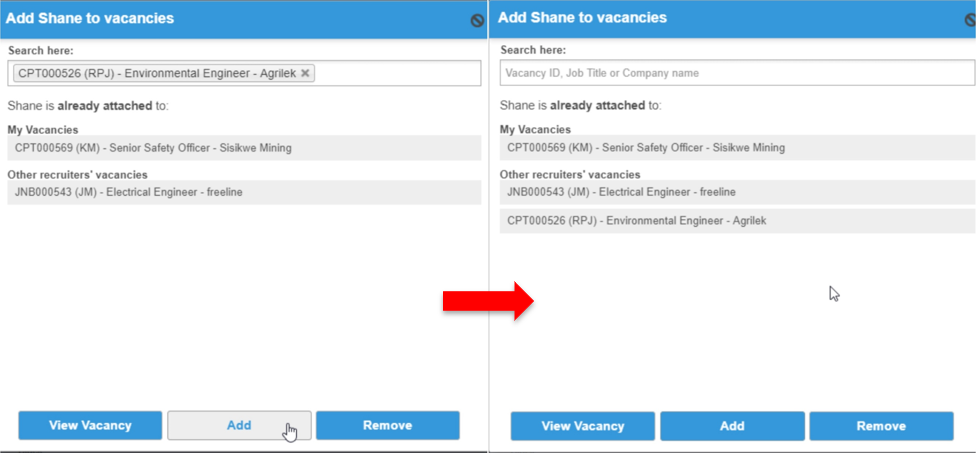 When you go into the Vacancy, you will see the candidate has now been added and is listed on your 'Send Outs' tab.

This is an excellent tool to use in cases where you have a great candidate who you'd like to attach to multiple vacancies. It's also fantastic for keeping tabs of things as it gives you an overview of your candidate's perspective of their job-seeking journey.
We trust that this will aid you in making more placements AND placing your candidates faster than ever before.
As always, your feedback is of massive value to us so, please do let us know what you think?
Keep an eye out for more new features coming soon!